With time our bodies lose their shine, the more time passes the more weak we get, our skin is the first observable sign that our bodies are getting weak.
Losing your natural skin tone and having it becomes paler is not only due to old age, other factors like your diet and diseases may be the cause of having a damaged skin.
Wrinkles and paleness are the first indicators that your skin is suffering from either a disease or just being old, and they could make many people feel self-conscious about their looks which makes them lose confidence in their appearance.
Luckily modern medicine has given us the answer to this problem, with peeling in Turkey at Aram Clinic you can say goodbye to your old skin.
Peeling in Turkey is a highly efficient procedure that will guarantee you the best looking skin you always wanted.
We at Aram clinic invite you to come and have peeling in Turkey.
How much does peeling in Turkey costs ?
The firs thing to consider when deciding on having a cosmetic or medical procedure is the cost and weather it is budget friendly or not.
You must do your research to find the best possible deals, but you don't have to look very far because with Aram Clinic you will find the best possible deals to having esthetic surgeries.
Aram Clinic allows you to have peeling in Turkey and many other cosmetic surgeries with a price that is 50% less than other countries like the U.S. and the U.K.
This is because peeling in Turkey is covered under our all-inclusive deal, this promotion includes all your necessities so you can have peeling in Turkey without worrying about the expenses.
Our all-inclusive package covers your medical fees, your transportation and allows you to have a room at a luxurious hotel so you can enjoy a nice and relaxing experience when having peeling in Turkey.
What is peeling ?
Peeling or chemical peel is a procedure in which a chemical solution is applied to the skin to remove it's top layers allowing for a more smoother skin to grow.
In the case of light or medium peels, this procedure may need to be done more than once to get the desired results.
Peeling is used to treat wrinkles, skin discoloration, and scar, it can be used alone or in combination with other cosmetic procedures.
The procedure can be performed in different depths, ranging from light to deep.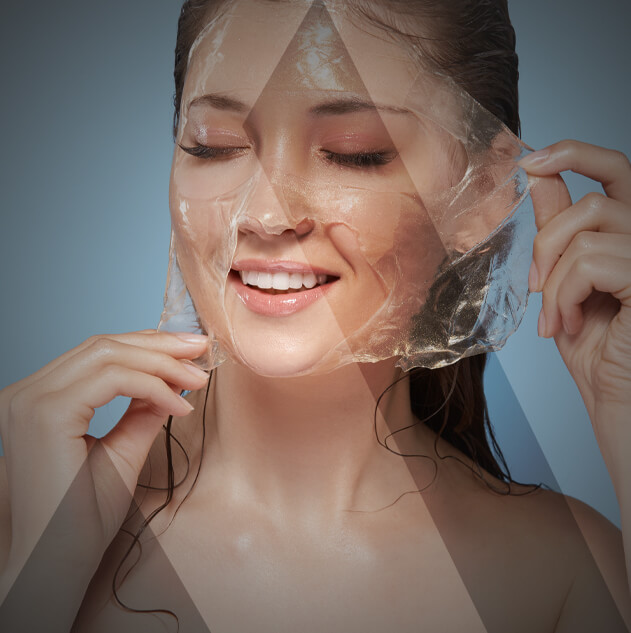 How to prepare for peeling ?
Before having a chemical peel, your doctor will review your medical history so you have to be prepared to answer questions about your current and past medical conditions, any medications you're taking or have taken recently, as well as any cosmetic procedures you've had.
Your doctor will Perform a physical examination of your skin and the area that will be treated to determine the best type of chemical peel for you.
You will also have to discuss your expectations with your doctor talk about your motivations, expectations, and potential risks.
Your doctor may prescribe an antiviral medication before and after treatment to help prevent viral infections, they may also recommend using a retinoid cream, such as tretinoin for a few weeks before treatment to help with healing.
You must avoid exposure to the sun without protection; it is known that prolonged sun exposure prior to the procedure can lead to irregular and permanent pigmentation in the treated areas, so you have to discuss with your doctor the ways to protect yourself from the sun and the acceptable level of exposure.
You doctor will give you a list of cosmetic treatments and certain types of hair removal products to avoid.
You should also avoid using hair color treatments, permanent wave treatments, hair straighteners, face masks or facial scrubs in the week leading up to the peel.
What happens during the peeling process ?
There are three types of peeling procedures that you can have, it depends on your condition and the examination of your doctor.
Light chemical peel.
During this procedure, the doctor will use a brush, cotton balls, gauze, or sponge to apply the chemical liquid, which usually consists of salicylic acid or glycolic acid.
When the doctor applies this chemical the treated skin will begin to turn white and you may feel a slight tingling sensation.
The doctor will apply a neutralizing fluid or flush the treated skin to remove the chemical fluid.
Medium chemical peel.
To apply a chemical liquid that contains trichloroacetic acid, the doctor will use a cotton-tipped applicator or gauze, the acid is sometimes combined with glycolic acid.
As usual the treated skin will begin to turn white and after several minutes, the doctor will apply cold compresses to soothe the treated skin.
You may be given a hand fan to cool your skin because you will feel tingling or burning sensation for up to 20 minutes, no neutralizing fluid is required.
Deep chemical peel
The doctor will use a cotton-tipped applicator to apply carbolic acid to your skin, and the same will happen as the other two procedures where the treated skin will start to turn white or gray. You will also be given intravenous fluids and your heart rate will be closely monitored. The whole procedure will take about 90 minutes to be completed, however the doctor will perform the peeling in separate periods, each one will be 15 minutes long, this is done so you won't be exposed to phenol very much.
What happens after the peeling process ?
After a chemical peel of any depth, your skin will become red, tight, irritated, or swollen, you shouldn't be alarmed since this is very normal.
You must follow your doctor's instructions to protect your skin from the sun, cleansing it, moisturizing it, and applying protective ointments.
Avoid scratching, rubbing, or scratching your skin,bare in mind that it may take several months for your skin color to return to normal and for you to see the full results of the operation.
Each one of the three techniques used in the peeling procedure has it's own healing time and process.
Light chemical peel
After a light chemical peel, the treated skin will be red, dry, and slightly irritated, however these effects may be less noticeable with repeated treatments.
Your doctor may suggest using protective cremes, such as Vaseline, to smoothen the skin.
It takes between one and seven days for the treated areas to heal after a light chemical peel, and the new skin may be temporarily lighter or darker than your normal skin color.
Medium chemical peel
After a medium chemical peel, you will notice that your treated skin will be red and swollen, you will also feel some tingling.
After five to seven days, you can use cosmetics to cover any redness and be sure to use cold compresses to feel comfortable.
Your doctor will prescribe some pain relievers to help with the discomfort; you'll likely schedule a check-up soon after treatment so your doctor can monitor your recovery, make sure you always keep up with these appointments as they are vital for the healing process.
With time, the skin swelling will progress, treated skin will begin to crust and may darken or develop brown spots.
The treated areas take approximately seven to 14 days to heal, but redness can last for months.
Deep chemical peel.
After a deep chemical peel, you will feel intense redness and swelling, you'll also feel burning and throbbing, and the swelling may cause your eyelids to close.
Your doctor will place a surgical dressing over your treated skin; they may also prescribe pain relievers to help with the discomfort.
You will need to soak the treated skin and apply the ointment several times a day for about two weeks.
Within a period of two weeks, the new skin will start to grow in the treated areas, although redness may persist for several months.
Treated skin may become darker or lighter than your normal skin color, or it may lose the ability to tan.
It is preferred to stay home while recovering from a deep chemical peel. You'll likely need several follow-up visits soon after treatment so your doctor can monitor your recovery.
After a period of two weeks, the new skin will completely cover the treated area, when this happens, you can use cosmetics to mask any redness and use sunscreen daily.
What are the risks of peeling ?
Chemical peeling is like any other medical or cosmetic procedure, it comes with some potential risks and complications.
Your doctor will better explain these risks once you meet them to help you understand the procedure fully.
Some of the risks are :
Skin redness.
Peeling.
Swelling.
Scarring.
Bacterial or fungal infection.
Itchiness.
Hyperpigmentation or hypopigmentation.
Damage to the heart, kidneys or liver.
Conclusion
If you are looking to take care and heal your skin in the most efficient and professional way then look no further, Aram clinic offers you peeling in Turkey so you can have your radiant young look back.